I have looked into the market of poker coaching and training sites. The results were not impressive. Read my brief reviews of them here.
In my quest for mastering the higher stakes of online poker, I am interested in becoming a member of an online poker coaching and training site, that is run by a team of active professional poker players. I have played online poker since 2012, and live poker since 2017, with millions of hands on record, which means, that I have a good understanding of the fundamental elements of poker and solid knowledge about todays poker player pools. I should be the perfect student to work with.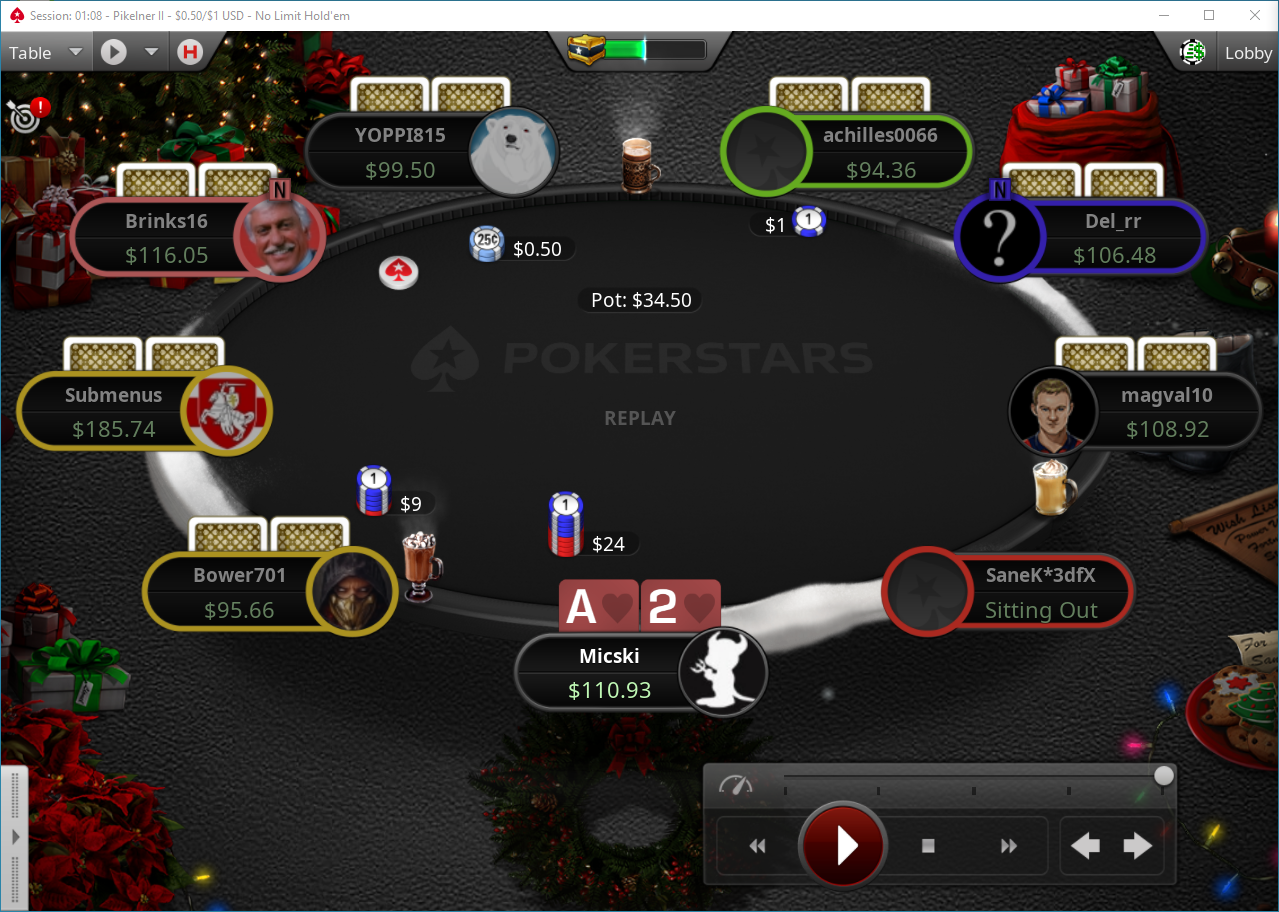 I am looking for a site, that provides updated modern theory and strategy for todays low and mid stakes full ring cash games by use of graphics and functionality, that takes full advantage of the capabilities, that modern web design and programming language provides. I will also look for support and the possibility to ask poker related questions to professional poker players of the team.
Through the years, studying poker has been based on reading poker books, watching small theme based video courses, conducting poker tracker analysis, working on own theory and maybe a private one-to-one poker coaching session with professional poker player, but over the recent years, online poker coaching sites, claiming to have suites of latest theory and practice, created by a team of professional players, for professional poker players, has been launched. These sites are based on memberships and recurring payments.
Are they actually any good? I will try and get an idea of this.
Poker Coaching by Jonathan Little.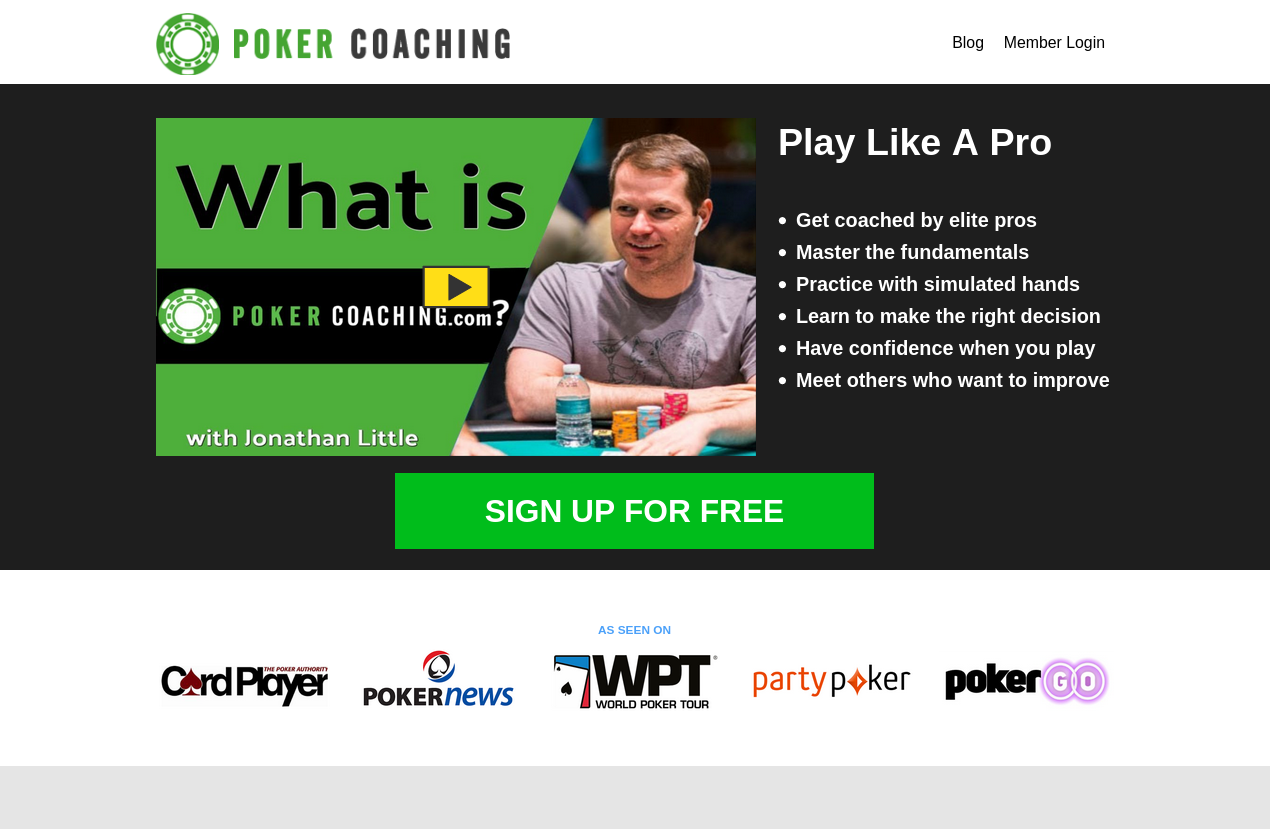 Poker Coaching by Jonathan Little. He has a popular YouTube channel. The coaching site has a short introduction video, that gives an ultra short look into the coaching site. It seems to be slightly more focused on tournament poker and the content mainly based on commenting on hands, that are played by the team of professional poker players. The rest of the site is not very informative. It is unclear, what topics, that are covered, and, whether the site provides a full suite of strategy and support for cash game players. I was not impressed by the graphics and functionality. The price for a premium membership is 99 USD per month. That seems too high for what I have seen.
I wrote to him about his site, but he did not reply. When people behind sites does not answer, it is safe to assume, that their site "does not respond" either and therefore not worth it.
Red Chip Poker by James Sweeney.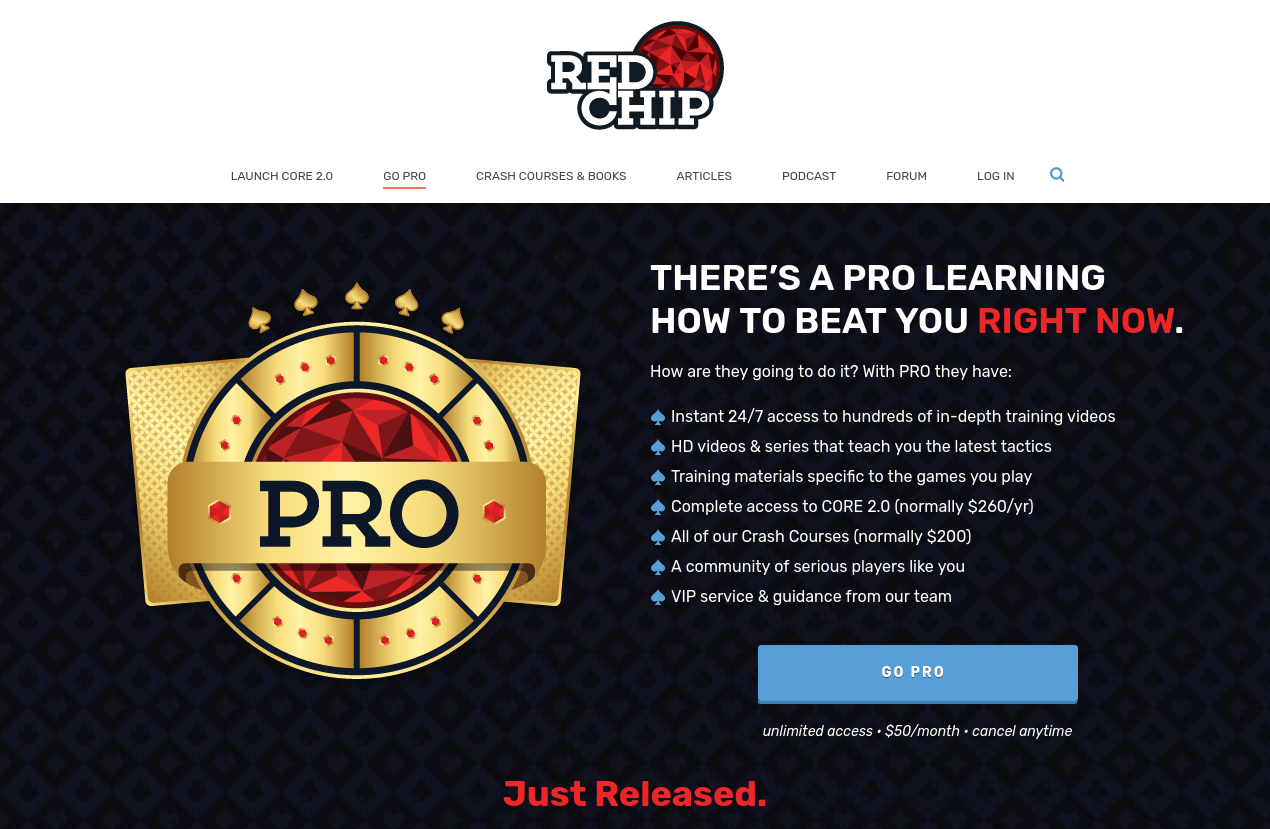 James Sweeney is a poker coach, that specialize in full ring cash games and produce neat graphics for his teaching courses. He creates some amount of free content on his own website and co-founded the poker coaching site Red Chip Poker, that provides updated modern content, created by himself and his team. I am not sure, if he plays that much online poker himself, but he is clearly mathematically founded, able to explain complex theory and works close with his team and poker community. The site gives an overview of its contents and, most importantly, me claims to have the latest strategy and guidance for the games, that I play. Red Chip Poker has a free podcast, that discuss different topics, that can be listened to, while doing other things. The price for basic membership is 5 USD per week. The price for professional membership is 50 USD per month. These prices seems fair to what I have seen.
I later tried this training site and I can absolutely not recommend it. Read my review in Review of Red Chip Poker training site for professional poker players.
Upswing Poker by Doug Polk.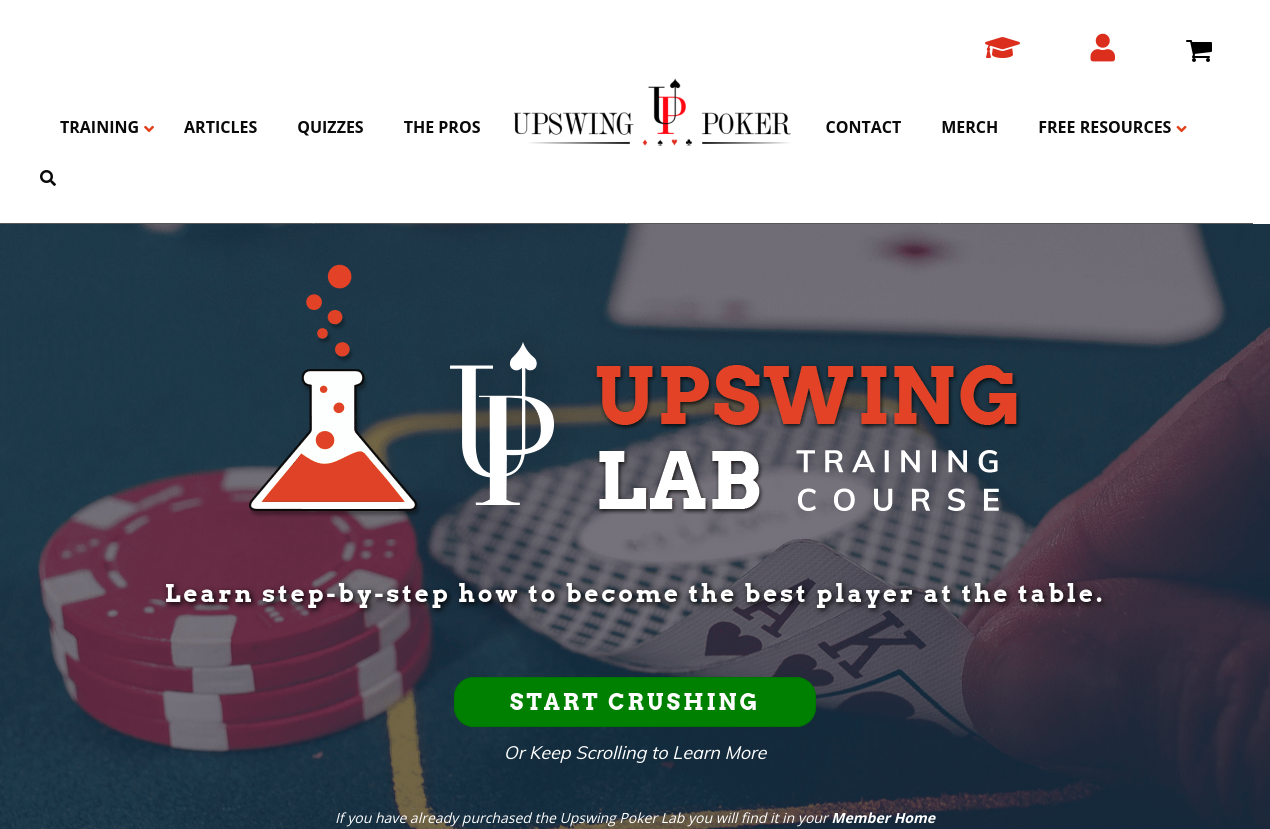 Doug Polk, which had some years of fame on YouTube for his great hand reviews before he retired, created a poker coaching site, that he named Upswing Lab. He also recently demonstrated to be profitable in his grudge match against the old professional poker player Daniel Negreano.
However, even though the site has been online for some time now, it has contradicting information and non-functioning references. The introduction video does not demonstrate impressive graphics nor functionality. The general language seems to be a little too smart and non-academic for my taste.
However, a referral affiliate Nathan Williams did make a video, that shows a little more insight to the contents, which seems to be a series of videos, many of which are old or not dated, together with some different newer content. This site does have active players in the team of professional poker players. These can probably be expected to produce content at some frequency. The price for membership is 99 USD per month. That is too much for what I have seen. It remains unclear, if the site actually teaches and supports strategy for todays cashgames, but the fact, that the site itself is not able to demonstrate this, is not a good indicator.
Raise Your Edge by Benjamin Rolle.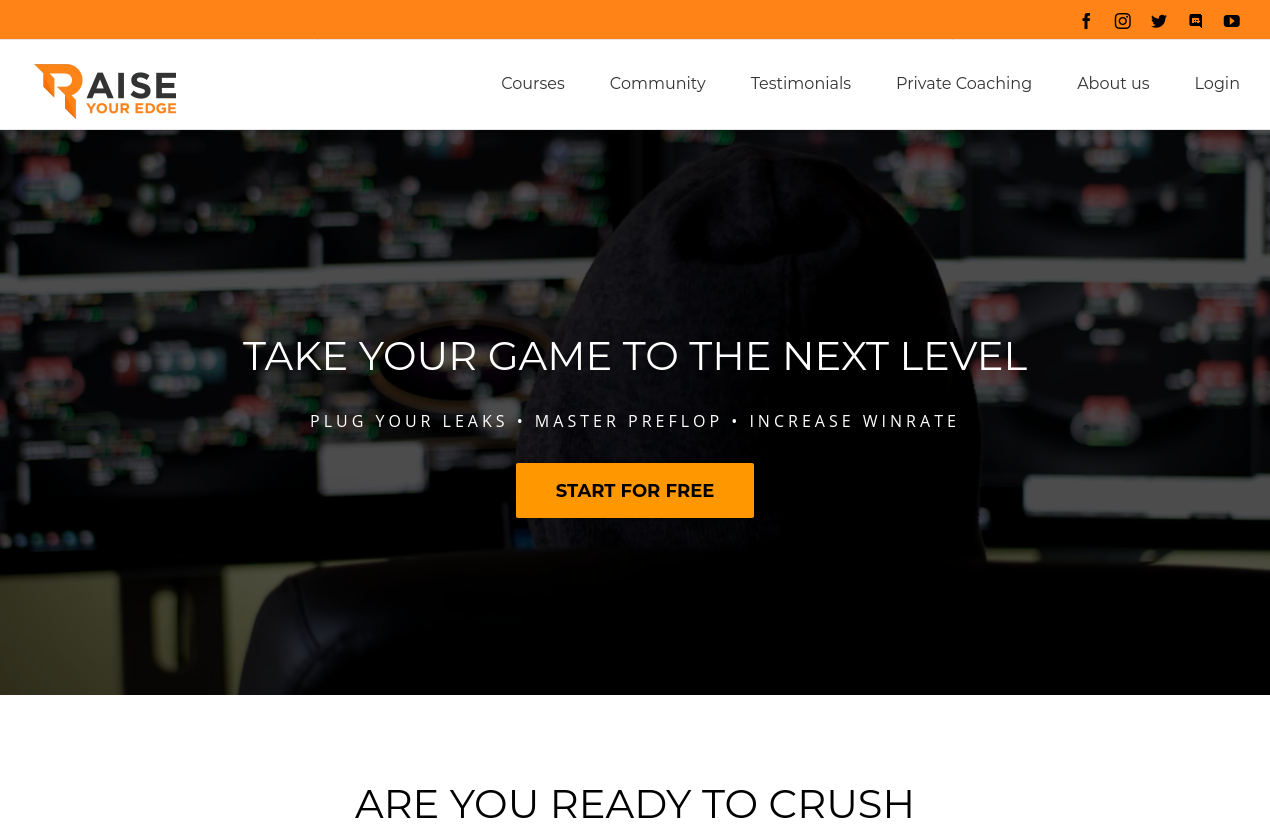 Benjamin is a tournament, and somewhat cash game, poker player, that has a popular YouTube channel and founded the Raise Your Edge poker coaching site.
However, the site gives little insight and its hard to determine the quality of graphics and content. The cash game master class description is very general and gives no insight. A general use of too smart and non-academic language seems to be in use. The price for membership is 397 USD per month. That seems way to high for what I have seen. After my visit to the site, I became a victim of heavy advertising, that presented wild claims about the great site.
I wrote to Benjamin from Raise Your Edge on two occasions, but very short and arrogant replies was given. It is safe to assume, that this kind of attitude is only used, when something is not worth its claims. One of his claims was, that a player can become a winning tournament player just be looking at 10 tips, which is obviously a false claim. A claim to which the answer was, that not every player can learn that fast, but some do. Also an obvious false claim.
SplitSuit and The Vault by James Sweeney.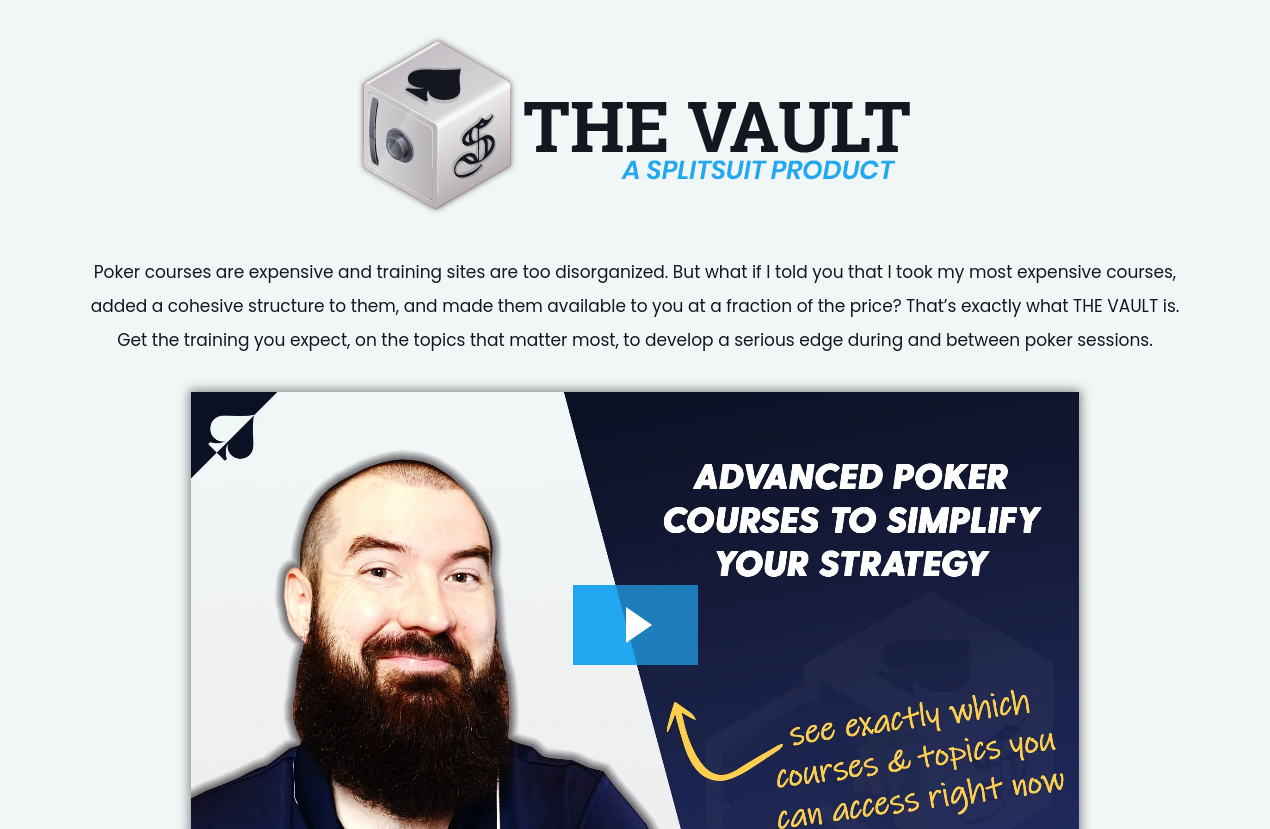 This is a more personal poker coaching site of James Sweeney, that also is a co-founder of Red Chip Poker and well known for his high quality content, that is well founded in simple mathematics and thought processes, for beginners and intermediate poker players. It is a very nice site, rich on content about a wide range of topics. His site also offers paid courses and a membership to The Vault.
I am not sure, if his site has content for professional poker players with regard to todays small stakes and higher stakes of online poker. The price for membership is 99 USD per month. A little high for what I have seen, but I can not tell without having seen it. Another option is to just buy specific poker books, that he produces.
BlackRain69 by Nathan Williams.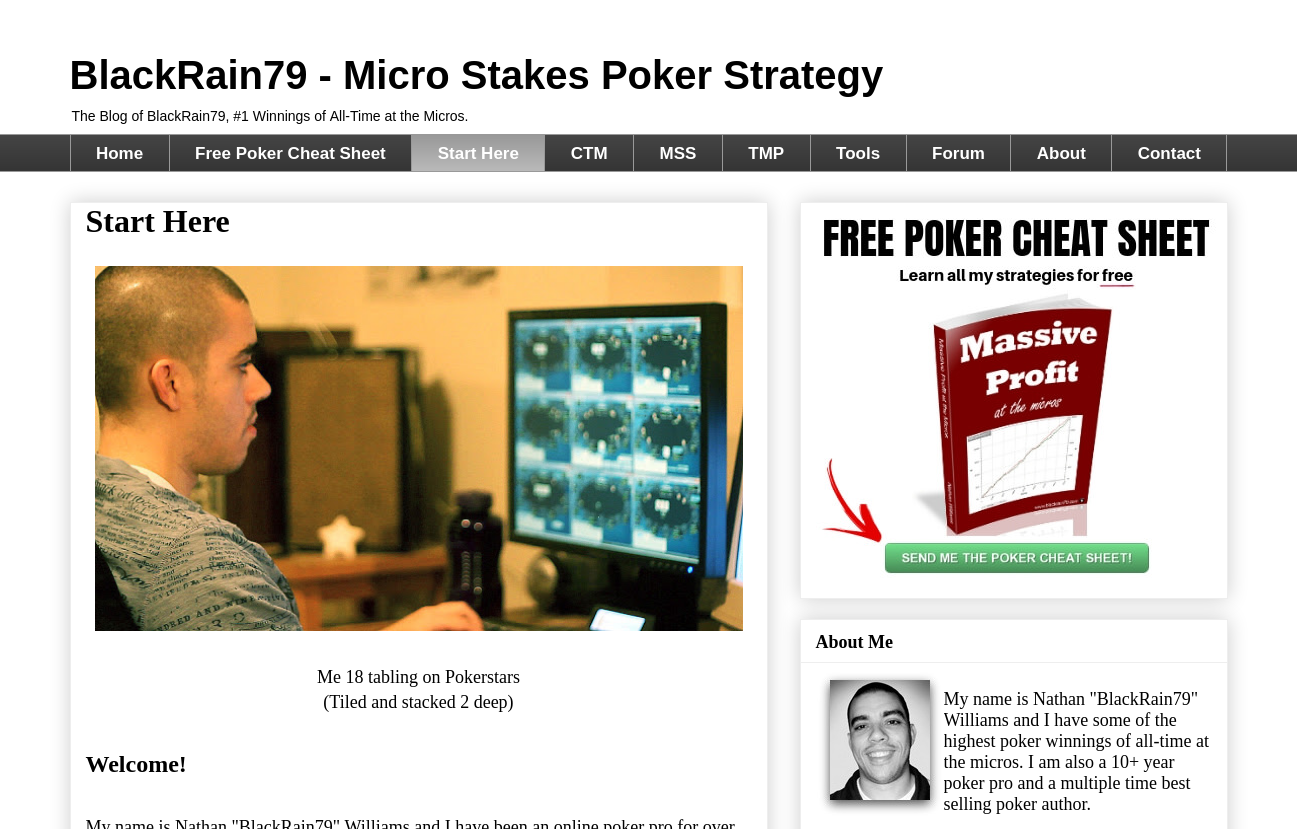 All though this poker site is not really a larger poker training site for professional poker players, but more a personal site of a poker player and author of poker books, Nathan shares frequent blog articles, where he writes about different poker topics of more general kind. His site mainly targets beginner players, that are looking to straighten out their fundamental skills of poker. He wrote some of the best poker books, that was based on the actual games of that time, in the years around 2014 and 2015, which was, however, also a time, when online poker was much different and less evolved than it is today.
I am not sure, if Nathan still plays any online poker. Despite, that his site claims, that he is a professional poker player at the lower stakes, with millions of hands on record, I have never seen him at the tables. His picture is from a time in the past, when 18 tabling was possible. His win graph and results data screenshot, which he calls recent winnings, is not dated, but the software in use indicates, that they were produced in 2013. This is confirmed by his rakeback claim of 45%, which was a thing many years ago.
I wrote to him recently, with a question about a questionable strategy, that he advocated for, but he did not respond despite two attempts. He frequently refers to another poker training site, which could indicate, that he actually use his site for referral income through SEO today. These are all indicators, that this is probably not a site, that is worth learning from, if you are in the market to become a professional poker player.
Conclusion.
I am sorry to see, that the market for professional poker training sites seems to be somewhat flooded with sites by former poker players and former coaches, that wants to resell their old content by using a recurring payment model to make it feel like an active way to keep up to date with todays games. I hope, that there do exist one or more sites, that actually does provide knowledge and strategy about todays online cashgames by active professional poker players. That unfortunately remains unclear though.
An alternative to poker training sites could be teaming up with other professional poker players or hiring personal coaching sessions from an active professional poker player. Those can be found at the tables and on live streaming platforms.
Would you like to treat me a cup of coffee?
If you would like to treat me a cup of coffee, then please consider making a small donation to My Bitcoin (BTC) Address. It would be greatly appreciated.
This page was last updated 2021-03-12.