In my quest for mastering the higher stakes of online poker, I am interested in becoming a member of an online poker coaching site, that is run by a team of active professional poker players. I am looking for a site, that provides updated modern theory and strategy for low and mid stakes full ring cash games through graphics and functionality, that takes full advantage of the capabilities, that modern web design and programming language provides. I will also look for support and the possibility to ask poker related questions to professional poker players of the team.
Through the years, studying poker has been based on reading poker books, watching small theme based video courses, conducting poker tracker analysis and maybe interact in an occational hour of private one-to-one poker coaching, but the recent years online poker coaching sites with suites theory and practice, created by its team of professional players, has been launched and re-launched with modern graphics and functionality. These sites are based on paid memberships, but in return, its team of professional poker players creates and updates the content in an ongoing manner and provide a suite of theory, coaching and support for serious and professional poker players.
Poker Coaching by Jonathan Little.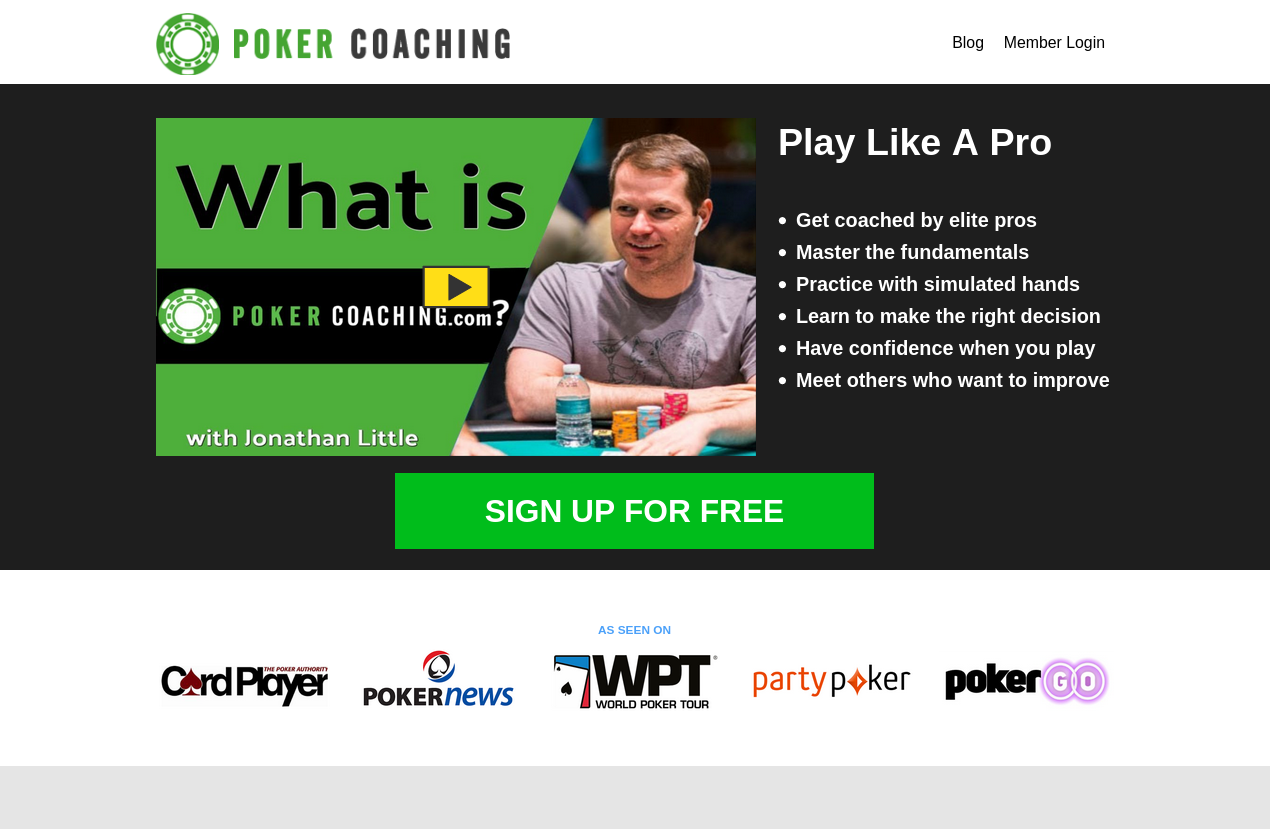 Poker Coaching by Jonathan Little. He has a popular and lovingly honest YouTube channel. The coaching site has a short introduction video, that gives an ultra short look into the coaching site. It seems to be slightly more focused on tournament poker and the content mainly based on commenting on hands, that are played by the team of professional poker players. The rest of the site is not very informative. It is unclear, what topics, that are covered, and, whether the site provides a full suite of strategy and support for cash game players. I was not impressed by the graphics and functionality. The price for a premium membership is 99 USD per month. That seems too high for what I have seen.
Red Chip Poker by James Sweeney.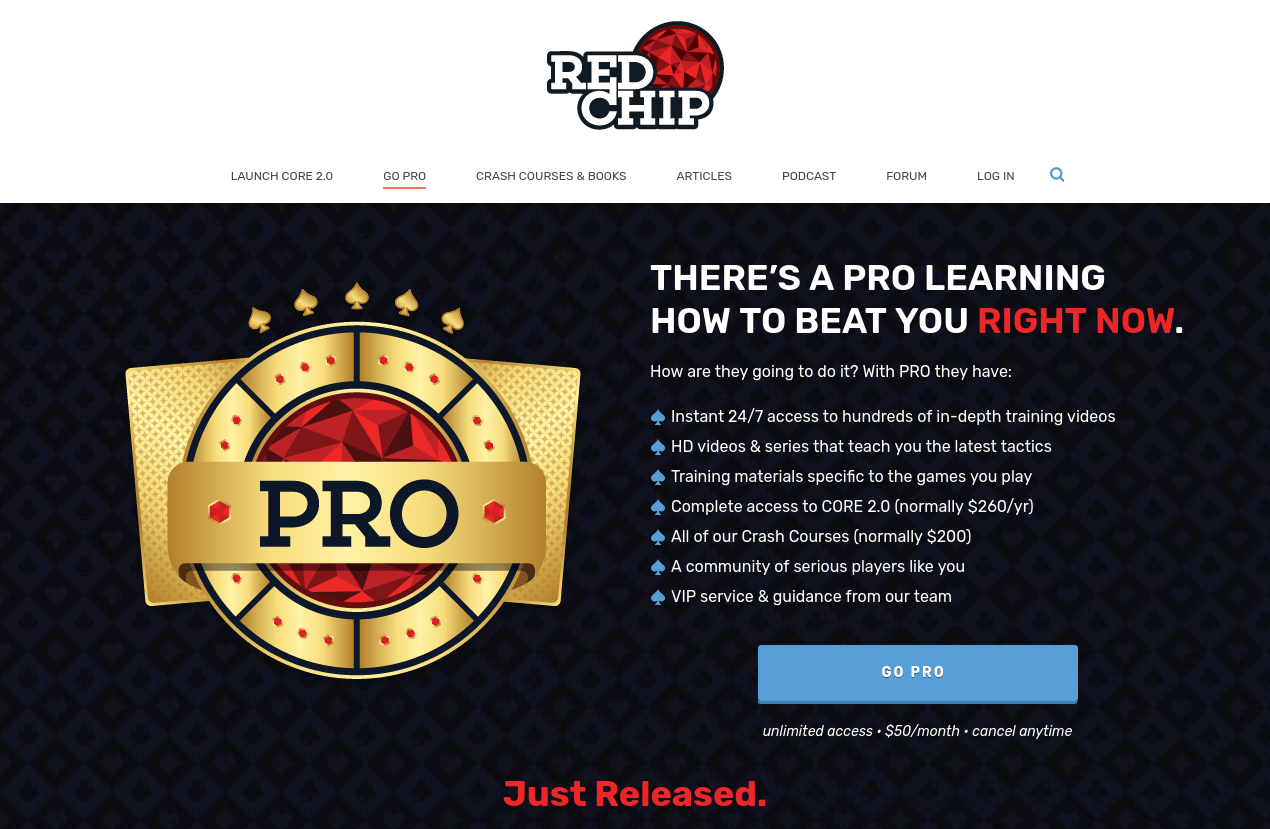 James Sweeney is a poker coach, that specialize in full ring cash games and produce neat graphics for his teaching courses. He creates some amount of free content on his own website and co-founded the poker coaching site Red Chip Poker, that provides updated modern content, created by himself and his team. I am not sure, if he plays that much poker himself, and specifically online poker, but he is clearly mathematically founded, able to explain complex theory and works close with his team and poker community. The site gives a very nice overview and insight to a full suite of support and structured content, that not only uses neat graphics, but also seems to cover interesting topics, that are of interest to me. Red Chip Poker has a free podcast, that discuss different topics, that can be listened to, while doing other things. The price for basic membership is 5 USD per week. The price for professional membership is 50 USD per month. These prices seems fair to what I have seen.
Upswing Poker by Doug Polk.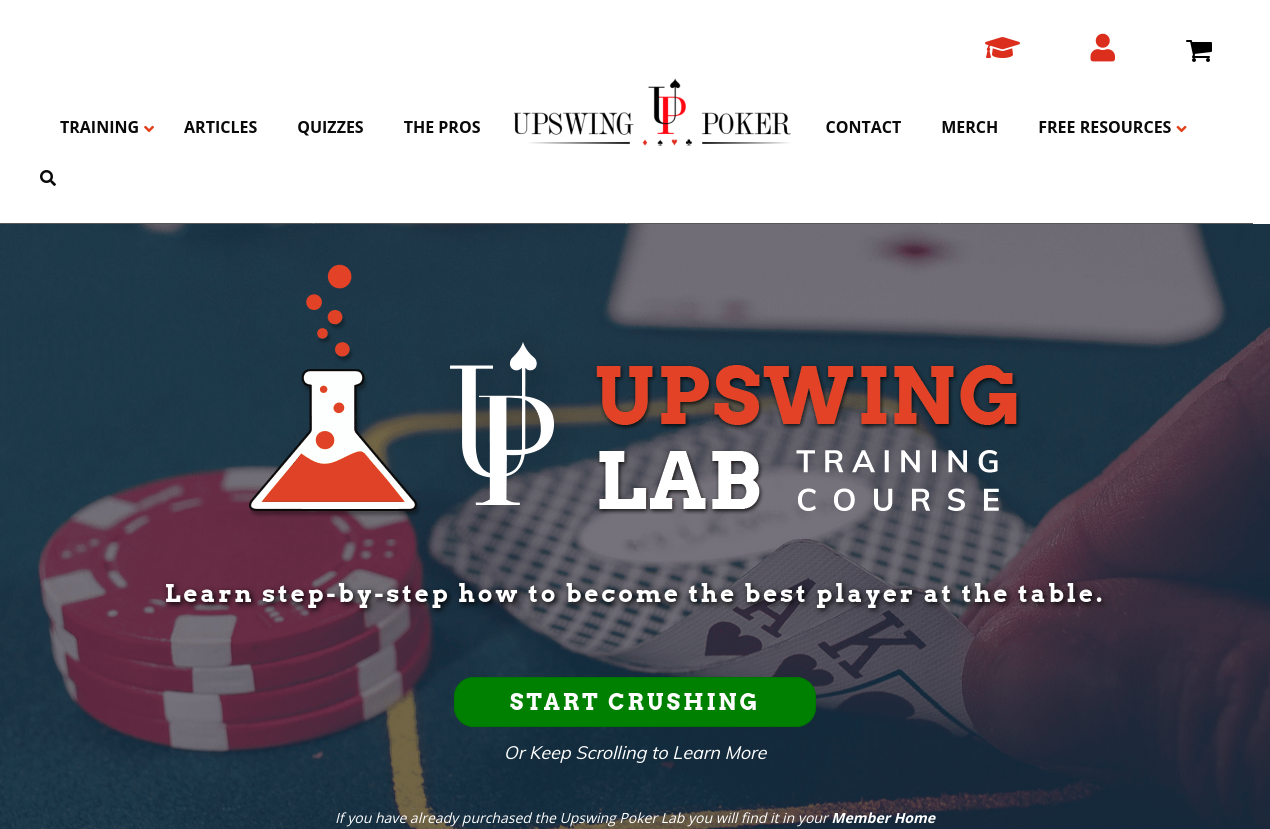 Doug Polk, which had some years of fame on YouTube for his great hand reviews before he retired, created a poker coaching site, that he named Upswing Lab. He also recently demonstrated to be profitable in his grudge match against the old professional poker player Daniel Negreano. However, even though the site has been online for some time now, it has contradicting information and non-functioning references. The introduction video does not demonstrate impressive graphics nor functionality. The general language seems to be a little too smart and non-academic for my taste. The price for membership is 99 USD per month. That is too much for what I have seen.
Raise Your Edge by Benjamin Rolle.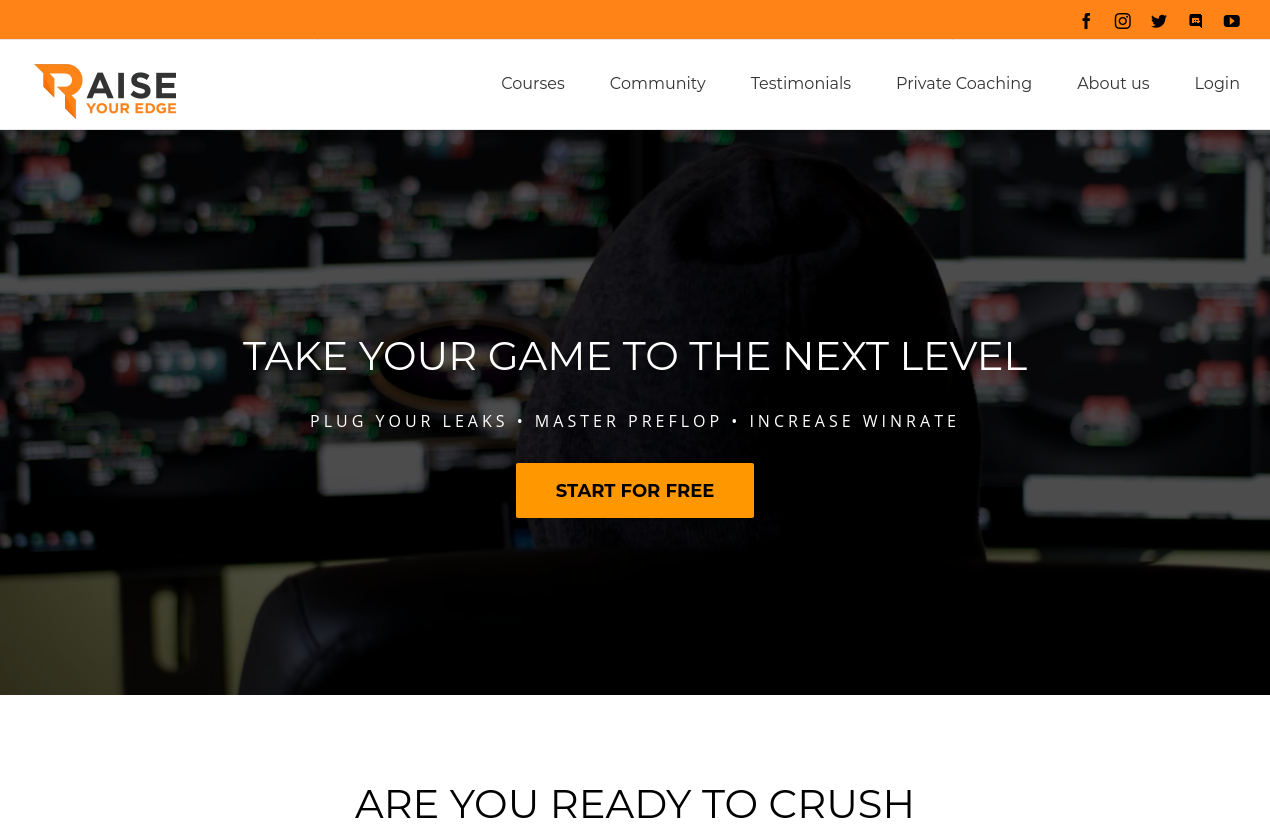 Benjamin is a tournament, and somewhat cash game, poker player, that has a popular YouTube channel, and founded the Raise Your Edge poker coaching site. However, the site gives little insight and its hard to determine the quality of graphics and content. The cash game master class description is very general and gives no insight. A general use of too smart and non-academic language seems to be in use. The price for membership is 397 USD per month. That seems way to high for what I have seen.
SplitSuit and The Vault by James Sweeney.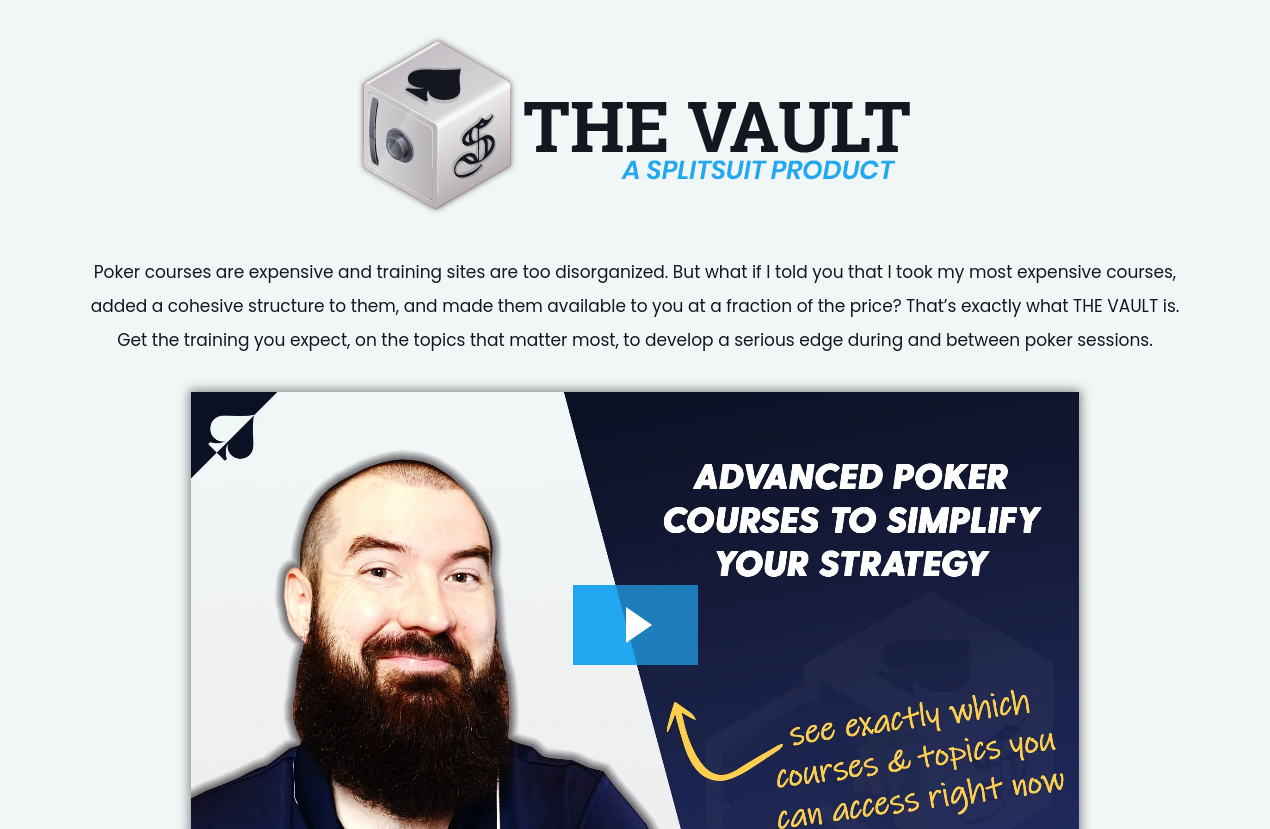 This is a more personal poker coaching site of James Sweeney, that also is a co-founder of Red Chip Poker. It is very nice site, rich on content about a wide range of topics. It also offers paid courses and a membership to The Vault. I am unsure, what the differences are, between this and the Red Chip Poker site, but The Vault seems to be a collection of larger courses of different topics, that supplement the site. I have asked James about this and will update this review with his answer. The price for membership is 99 USD per month. A little high for what I have seen, but depends on the answer.
Conclusion.
The balance between content, graphics and price, seems to be right for Red Chip Poker by James Sweeney. I will sign up for the professional membership and see, if it lives up to its promises. If I should become disappointed, I will look into SplitSuit and The Vault or Poker Coaching by Jonathan Little.