This is the procedure for listing sessions, tagging hands for review and reviewing hands in PokerTracker with the purpose of finding the most profitable action in key spots.
How to list sessions and poker hands in PokerTracker.
Go to Statistics. Set Player to player (and poker site) to review. Set Report to Summary. Set Group By to Session. If you have many sessions, then set Filters as necessary. You will now have a list of sessions, that was played, and a summary of each statistic below it. Right click the list, click Configure Report, and then add, remove and organize filters to your preference. Make sure, that Hands For Session is selected.
Select the session, that you wish to review. If you review your sessions daily or often, which you should, the session of interest will be the last session. The hands, that was played in that session, will be listed below. Set the drop down menu to All Hands. You can now select hands of interest. This is done by right clicking i hand, go to Tag Selected Hand and clicking Review.
How to tag hands for review in PokerTracker.
You will probably want to review hands with big pots, won and lost, and other specific hands, that could be interesting. Especially those, that has a big impact. You can use the Date, Won and Hole Card controls to change the sorting order. Hands, that were marked for review during the game will already be tagged for review. This hand will be tagged for review.
You can also use More Filters to query the database for hands with specific action. An example of this could be hands, that involved 3betting, raising flops and river bets. You can use Quick Filters to develop a valuable collection of quick filters. These can also be used for more in-depth database analysis at a later time, when there is 25.000 hands or more hands for such an analysis.
How to review hands in PokerTracker.
When you have flagged hands to review, then open the tags drop down menu and select Review. If other tags were selected, then deselect those. The hands below will now be those hands, that has been tagged for review. Sort them by date. Select all. Right click and click Replay Hands. You can now replay each hand and find key spots. The purpose is to find the most profitable action in such spots by assigned hand ranges and calculating expected value for possible lines of action. The stack sizes, hole cards, pot size and pot odds are helpful.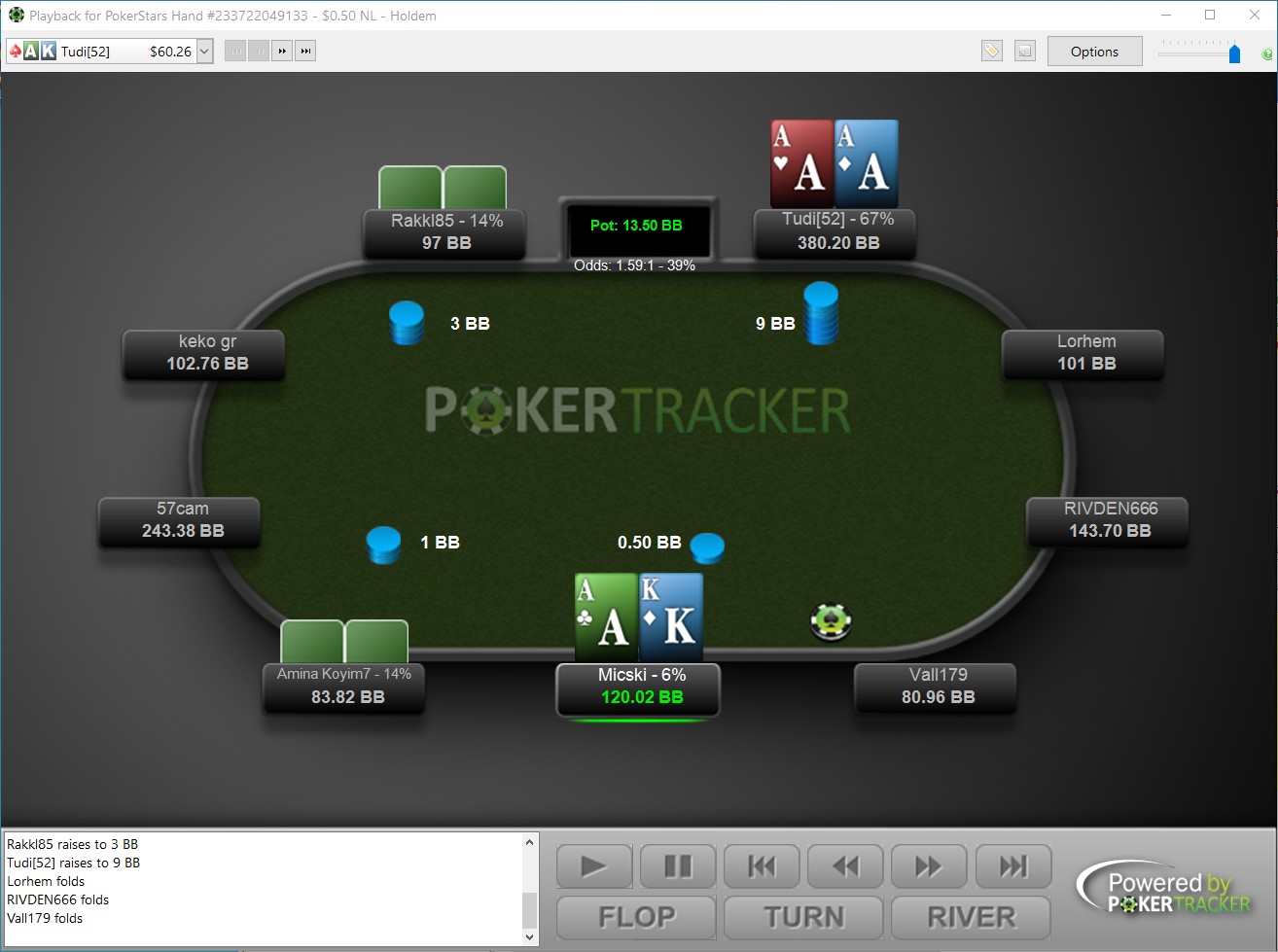 When you found an interesting spot, where the player might have made a mistake in terms of hand reading or action, you can enter range of hands for players into EquiLab and calculate the equity for each player instantly. This equity is the chance of winning for each player at this time in the hand. The can be used to determine the expected value of an action.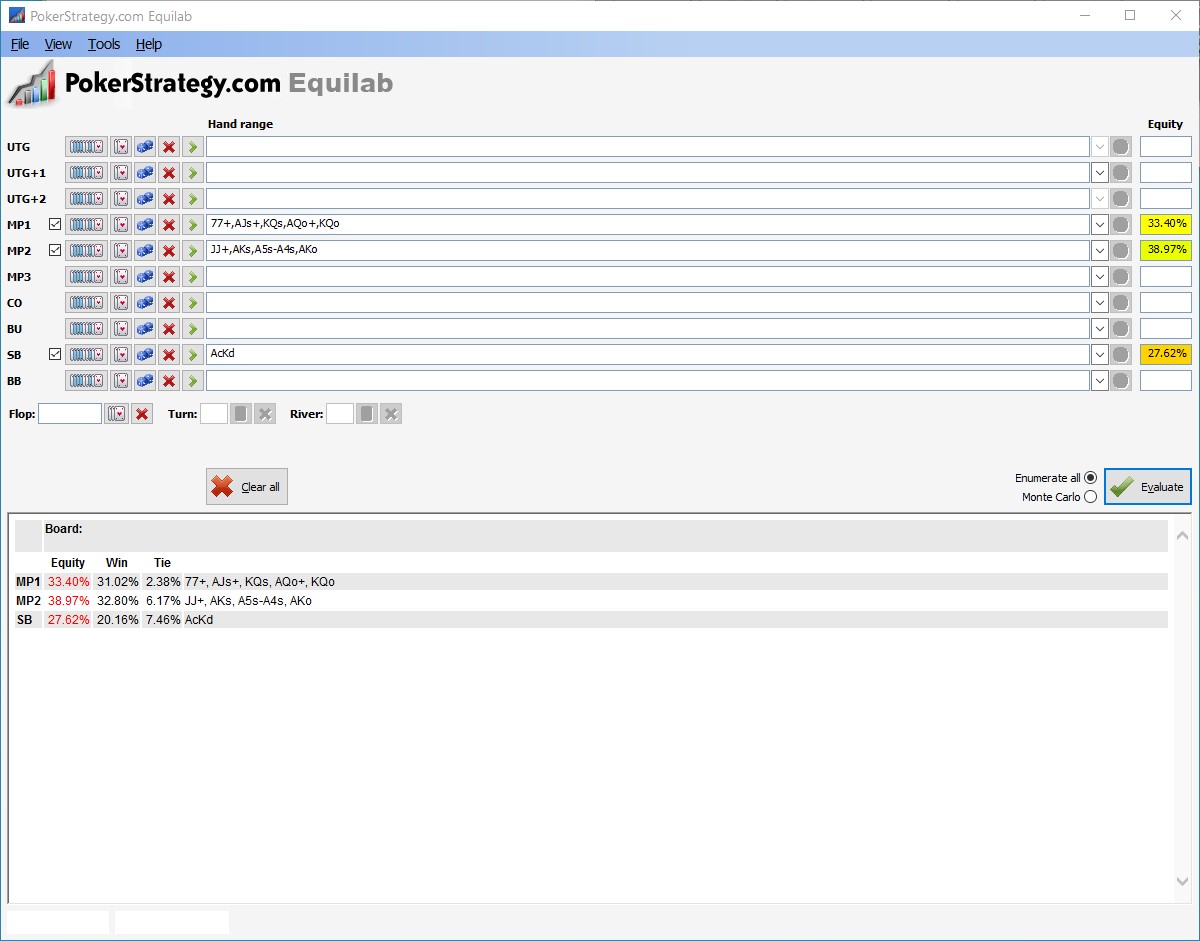 In this example we can see, that the player in the small blind needs 39% of equity to make this call, but only has 27%. However, he might not be looking at calling in this spot, because of his position, so another option could be calculated: Would a raise be profitable? It depends on the player types, their ranges and their expected reaction to a raise. The answer needs an expected value calculation. This calculates the expected value of a raise, which is based on the chance of winning and the amount of money won, when they call, the chance of losing and the amount of money lost, when they call, and the amount of money won, when they fold.
EV(Fold) = 0
EV(Call) = (Win% x $Pot) – (Lose% x $Call)
EV(Raise) = (Fold% x $Pot) + (Win% x $Pot) – (Lose% x $Pot)
Sum up the value of mistakes.
I recommend, that the value of each mistake, that is made in specific spots, from the point in the hand where the wrong action was taken, such as a bad raise or call, is noted into a spreadsheet and summed up together with the other mistakes for the session. The value of value is interesting, because the amount of won money for the session can be held up against this value of mistakes and serve as a kind of indicator of the current skill level of the player. The goal is to minimize the amount of mistakes during play.
Sum up the value of potential.
Like summing up the value of mistakes, it is also of value to know, where there was potential for improvement. This is almost always related to raise sizes and value bets. The goal is to maximize the amount of value, when ever it is possible.
How often should poker hands be reviewed?
I recommend, that you review each session, that you played, after a good nights sleep, so you can conduct the review with a fresh mindset. Reviewing poker hands should be done regularly and be a part of your poker study routine. The purpose is to maintain a humble student and keep learning and improving your skills and poker strategy. By studying your own games, you build a strategy around the games, that you play, which is more effective than watching other peoples games from poker training sites or entertainment poker streamers.
More about reviewing poker hands.
Variance and downswing in poker, The range of maniac all-in open shoves and hands to profitably call with and Should you go all-in preflop with AK? The math has the answer by myself. The Basics Of Poker EV and Advanced Poker EV Formula on YouTube by SplitSuit.
This page was last updated 2022-02-09.